Main window.


The main control menu of SND Player v1.x. Here you can control all happenings. Buttons from left to right: Load, Play, Fast Forward (if clicked quickly it jumps to next song), Stop, Pause and Previous/Next Subsong. The look doesn't remind much, or anything about GEM, still it is a GEM application. The Assemsoft GEM library offers more than the average. It is simple to edit the entire look of SND player via a resource editor, all graphics are made up from standard colour icons.

Snapshot taken from 256 colour mode on a Falcon.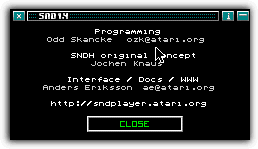 Info window.


Not much to talk about this one, except that it has a quite unique feature; you can click the url and the email addys to go visit the homepage or email directly. SND Player will send a message to the application which you have setup in the ENV strings.
Jochen Knaus stands as original SNDH authour, and you should rellay go visit his great "ST Sound Pleasuredome" homepage. Just keep in mind that the SND's you find there are not tested with SND Player and might not work.

Snapshot taken from 256 colour mode on a Falcon.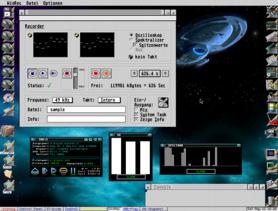 Fullscreen snapshot.


This is SND Player v1.5 in cooperation with WinRec Pro. The soundsystem is redirected so WinRec Pro can treat the YM Sound as a normal incoming sample. Hear the wonders of Mad Max with fantastic reverb etc! You can now download an MP3-file of some selected Dma-Sc songs with "Church reverb" from WinRec Pro added. As can be seen, SND Player works fine in a multitasking enviornment and it differs quite a bit in how it looks to other GEM software, it still is a clean GEM application like the others, supporting most av/va start, drag/drop, commandline parameters etc.

The snapshot is taken from 256 colour mode on a Falcon with FreeMiNT, N.AES and Thing Desktop.